In The Wild is Oceanhouse Media's newest Cat in The Hat Learning Library collection yet! It is a perfect set of four books that will get children excited about zoology, just in time for the new school year.
Safari, So Good! is a brand new book and is currently found exclusively with this collection. Children will take a journey deep in the jungles of Africa to learn more about familiar animals like elephants, cheetahs, rhinos. They will also meet unfamiliar ones that may surprise them like the kudu and the sickle horned sable.
If I Ran the Rainforest is an exciting book where children will discover that there are different kinds of rainforests. They will also learn that rainforests have four levels. They will explore each of those levels in depth from the top down and get to know some of rainforest's colorful and lively residents. This book also touches briefly on the importance of preservation.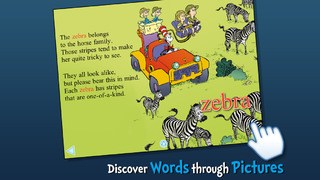 On Beyond Bugs! takes children down to the world of insects. They will learn about all kinds of bugs including those known as pests. They will learn that insects have various defense mechanisms including camouflage, scents, and bright colors. They will also learn about pollination and how bees play an important role in the life of a flower.
Miles and Miles of Reptiles will get the children up close and personal with crocodiles. alligators, lizards, snakes, and turtles. They will learn that there are more lizards than any other kind of reptile and will probably discover ones they never knew existed before. They will learn a lot of things about reptiles including how to distinguish an alligator from a crocodile.
All four books provide a wealth of information. Even adults may discover things they never knew before. For example, did you know that cheetah cubs sometimes play soccer with elephant poop? Yes, that got my kids laughing out loud too! The books also introduce new words like transpiration, epiphytes, and chelonians. They even teach how to pronounce these unfamiliar words. They are like science text books, but ten times the fun.
In The Wild includes all of Oceanhouse Media's fantastic features such as text highlighting, voice recording, and tappable words and objects. It comes with two reading options: read to me and read it myself. Parental controls are provided to keep young children from accessing external links to the web and the App Store. In The Wild! is easily this summer's best app release. It is an outstanding collection of books that exemplify a perfect combination of fun and learning. Children will absolutely love it and I am sure the adults will to.
Highly Recommended!
This app has been thoroughly evaluated by our staff. Please click on the 'star ratings' tab above, to see how it fared in all nine of our rating categories. See synopsis tab for more details about the storyline.
This review was originally published by TheiMums.com on August 26, 2014. The iMums – Amanda, Alison, Mary and Grace – are four mothers from different parts of the world dedicated to educating parents about the best digital stories, educational apps, fun games and technology products available for their children. Founded in August 2011, the four iMums have 11 kids among them ranging in age from 1 to 17 and bring a global perspective to their app reviews.
The original iMum Amanda being from Australia, Alison is in America, Grace is from Singapore and Mary is from the UK but is currently living in America. Guest author Fides and her husband have been married for 16 years. They homeschool their 4 children: two amazing sons and two beautiful daughters. Author Fides and her husband have been married for 16 years. They homeschool their 4 children: two amazing sons and two beautiful daughters. Fides likes to walk and jog outdoors everyday and has as very difficult time resisting a slice of paradise cake.