Come along on 4 exciting adventures from the Cat in the Hat's Learning Library! Explore pictures, learn new vocabulary, and personalize the story with your own narration. Start learning with Safari So Good, If I Ran the Rainforest, On Beyond Bugs, & Miles and Miles of Reptiles, to find out what discoveries await you in the wild!
Start Reading:
ENCOURAGE literacy skills with highlighted narration
LEARN new vocabulary with tappable words and pictures
INTERACT with interactive diagrams, glossary words and more!
RECORD your own narration & share it with others
KEEP kids in the story with parental controls
Designed for children ages 4-8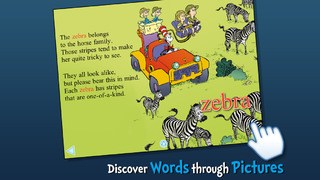 Safari, So Good: The Cat in the Hat takes you to Africa where you will meet some really big cats and all sorts of other wildlife. Learn all about about elephants, zebras, giraffes, hippos, warthogs, baboons, and more with the familiar characters of the Cat in the Hat!
If I Ran the Rainforest: Come along on an "umbrella-vator" ride through the understory, canopy, and emergent layers of a tropical rain forest, where you will encounter a host of plants, animals, and native peoples along the way! Learn all about the tropical rainforest and the ways in which its plants and animals interact.
On Beyond Bugs: The Cat in the Hat is your tour guide as you learn all there is to know about insects. Come along and see how these fascinating six-legged creatures, from butterflies and crickets to fireflies and honeybees, inhabit our environment and make everything better for the world around us.
Miles and Miles of Reptiles: Explore the world of reptiles- lizards, snakes, turtles, and crocodilians- in the Cat in the Hat's trusty crocodile car! Kids will slither in delight as they learn about the characteristics shared by most reptiles, basic information about each group, quirky fun facts about individual species, and much, much more.
[Source: iTunes]